I know it's a little strange to post a mod/build that's basically just finished, but It's still a mod that I'm quite proud of and certainly one that I've been getting alot of requests to post up, so what the hell here goes.
About 6 months ago, this came across my desk at work.
http://steelseries.c...-steering-wheel
So I snapped up the opportunity to give it a little review. You can read about it on our humble little website (
http://www.atomicf1....ies-srw-s1.html
)
Anyhow, to summarise above it was basically a flawed idea, but a good looking and sturdy device that lead me to think it could make the perfect steering wheel to mount to a base. So my first effort was more about a proof of concept and weather this would even be a good idea to do. The first attempt was about 8 months ago and basically was just about bolting the thing to each other and seeing weather it gelled together. The end results were surprisingly good as seen here: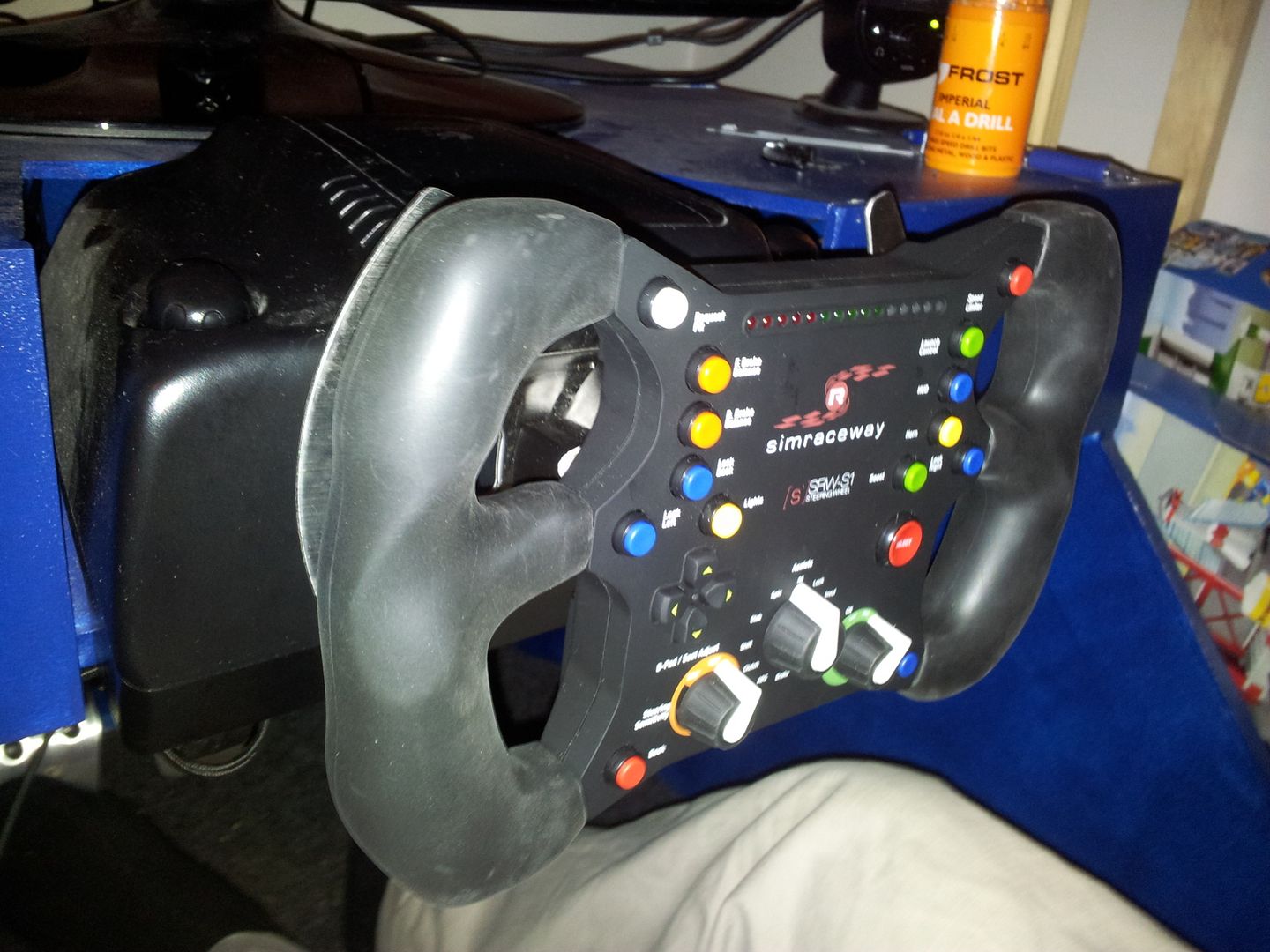 It was very comfortable and very useful. Suddenly going from 6 buttons on the wheel to over 20 within fingers reach transformed most games and not to mention the now total immersion in F1 2010/2011. So I raced with this setup for sometime and it's been great, but there were some severe limitations to my implementation.
Firstly because I had basically bolted to controllers together, it mean that while the G27 was handling the steering and the pedal imputs. The buttons were from the SRW-S1. It meant that the cool REV counter, which you can see me demoing in simraceway here (), basically didn't work in anything else because all the games were looking for the G27's LEDs to use.
Secondly, I had a USB cable dangling out the bottom of the device. While this didn't cause any problems in game, it did mean I had to give it plenty of slack when the PC was booting up as not to interfere with the G27 when it did it's 900 degree calibration test.
So I made the decision to really do a full out conversion mod with a new LED display, and Rev counter that I could use in basically any game, and really give it that F1 style feel. From this point onward is that build log that finished up last night!
So first things first I got another SRW-S1 from my work. Unfortunately and I've been asked many times, no, you can't buy these in Australia. As the sole disty of SteelSeries we decided that it was not a viable product to bring in. Almost all the questions I've had regarding this product are in relation to modding it, not as a device on it's own, so with some forward thinking SteelSeries have a market for this, they just gotta put it on a base!
So first step was to take the SRW-S1 and gut it.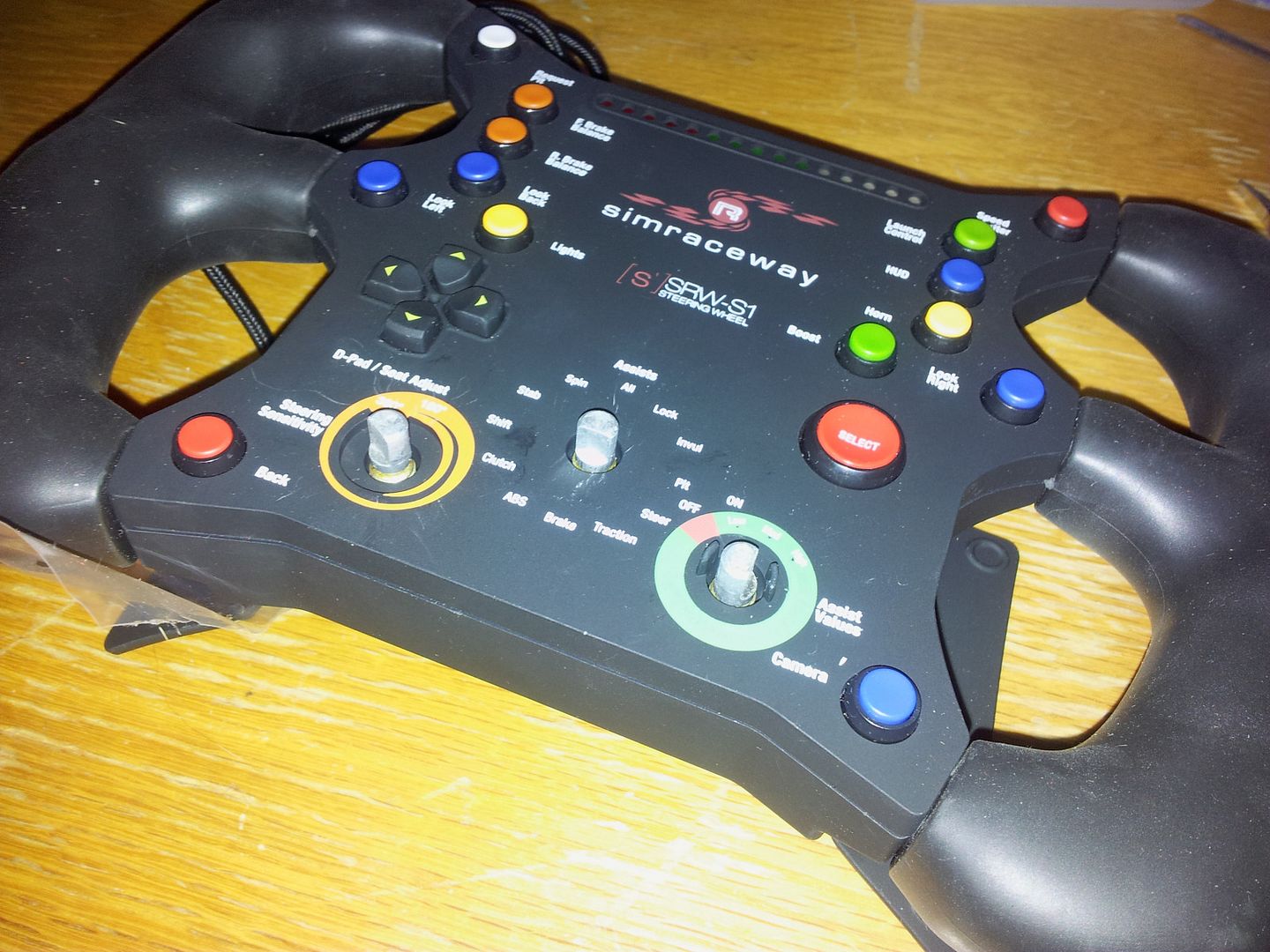 The internals. Originally the photos were going to be a guide on how to mod the thing, but it got so complicated so quickly that I was really kinda working it out as I went so alot of what I was doing was trial and error.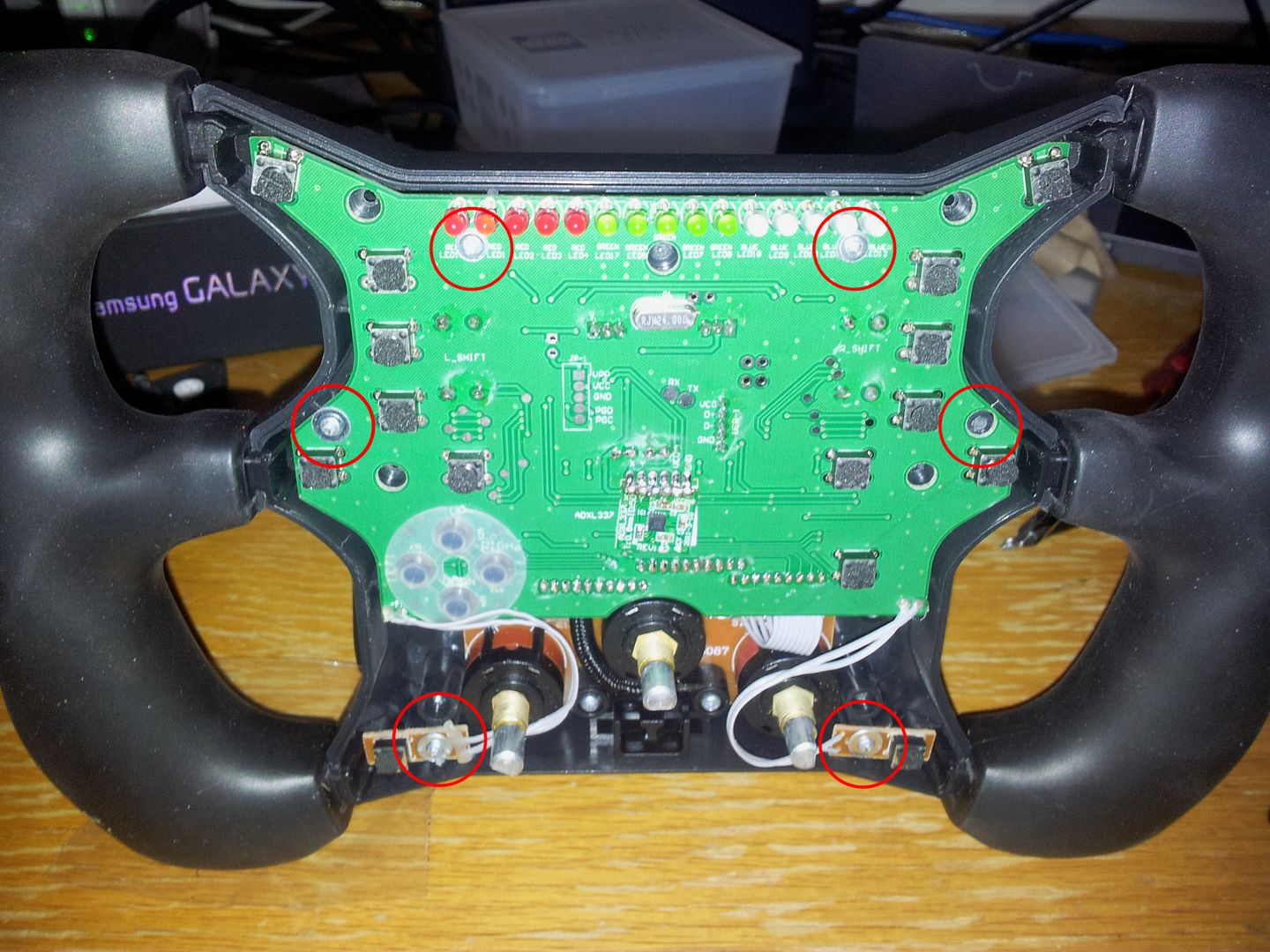 So a fully gutted SRW-S1 shell.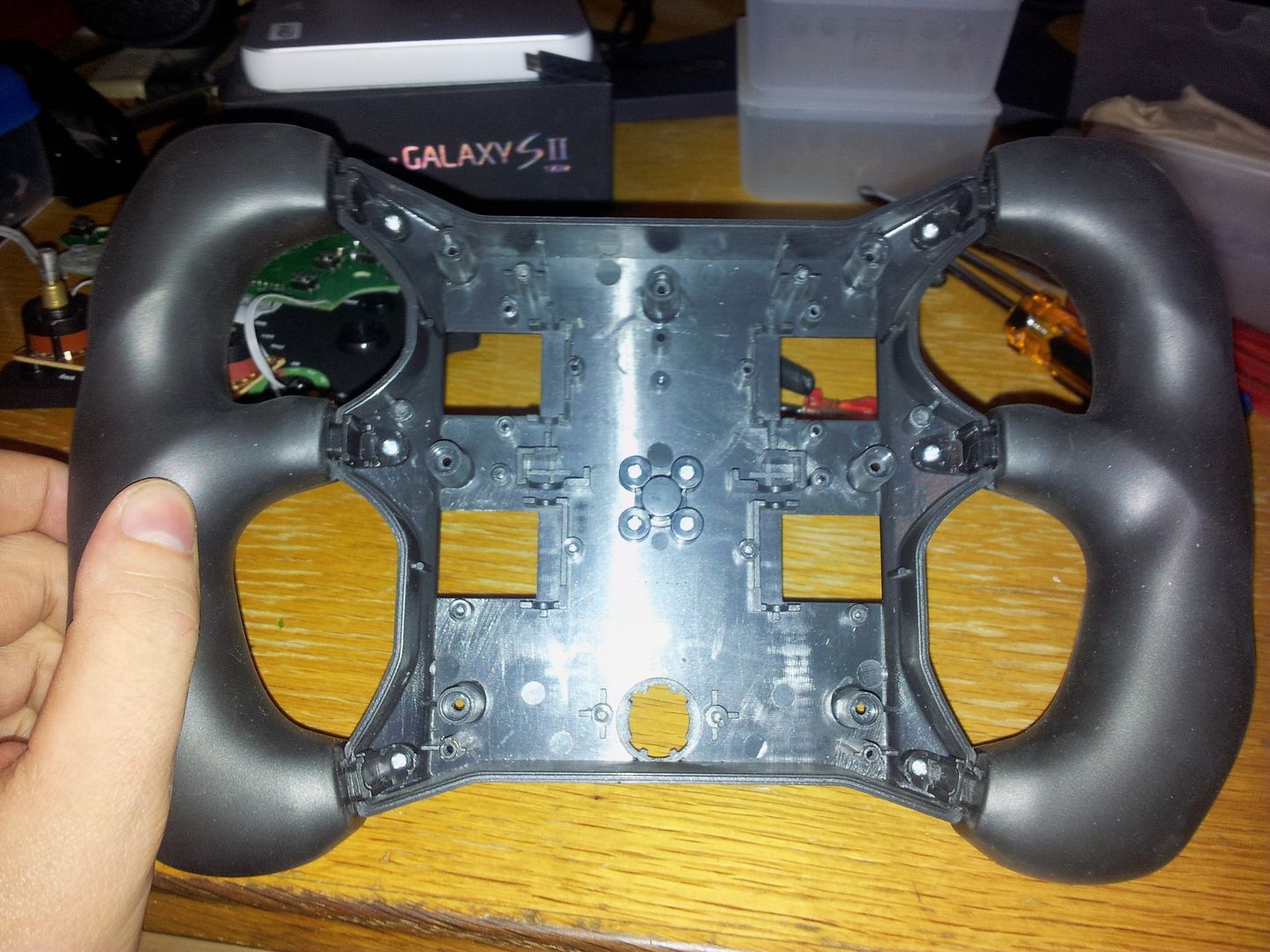 So one of the things that I didn't do well on the first attempt was the bracket that sits between the wheel and the steering column. It was very adhoc, and not well thought out, but it was functional and did the job. So this time a little more thought and planning.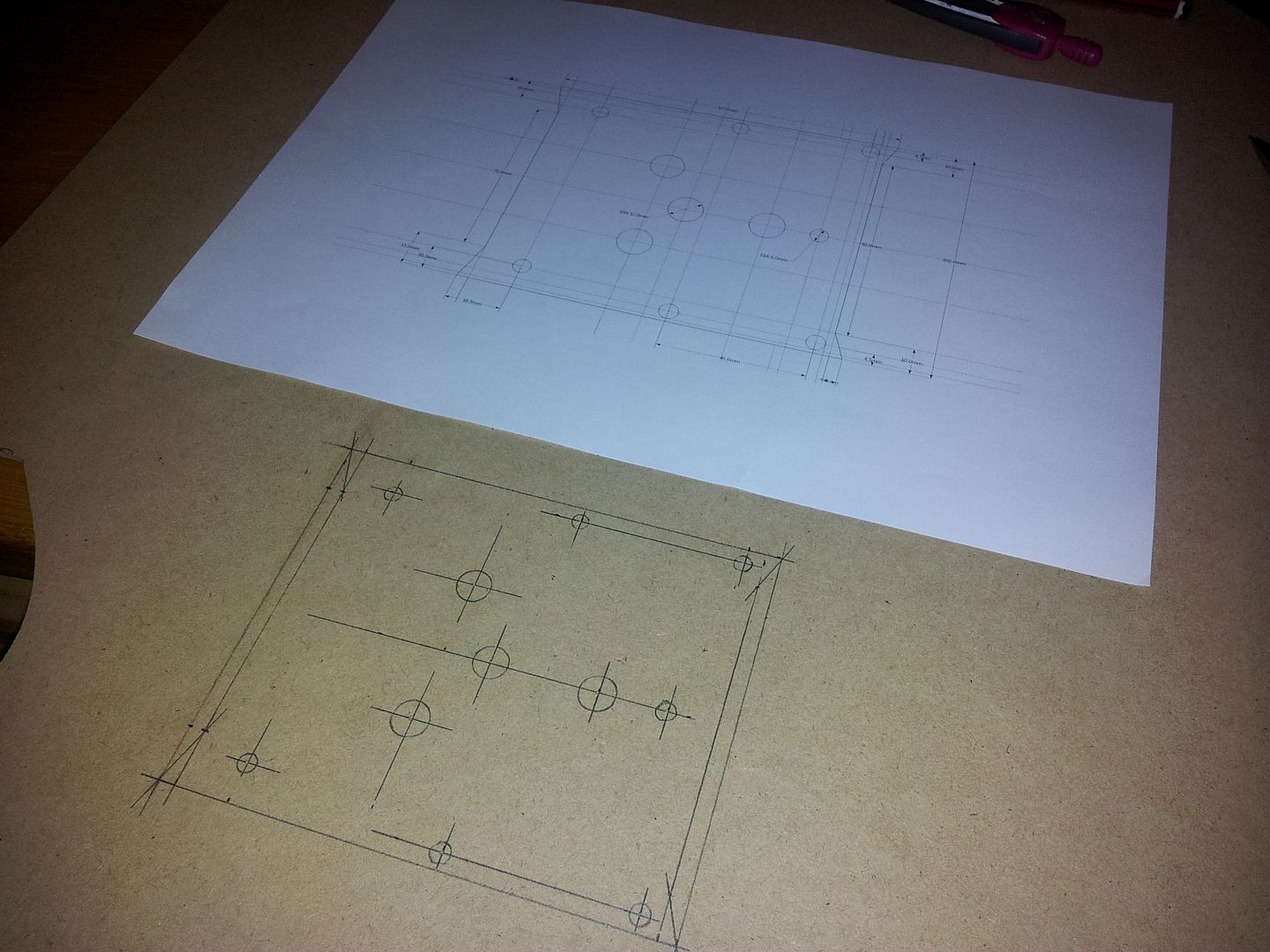 The above is just 3MM MDF and yes, I could have used any number of materials such as metal plate ETC. This wasn't about making it stronger, it was about giving the wheel something to mount to. Plus I was going to cover this anyway with some fake carbon fibre stuff. And speaking of carbon fibre rip off, here is some I bought off e-bay. It cost $7 including shipping and is actually vinyl. Has a great textured feel to it and very easy to cut and apply. I think I'll have to use this stuff in future builds.