Some of you who've been around long enough might remember my '
little big
' project rig.
The aim of it at the time was to cram the most powerful parts into the most compact size as possible. In that respect it was a smashing success, the moment you take the lid off the case it was just jam packed with wires, tubes and gear. This was at the time when small system builds were just starting to gain popularity.
See photo album of the build
HERE
.
Over the past year I've slowly began updating the guts of this machine. New SSD (an OCZ one died), new PSU (old one started getting wobbly) sound card (Xonar had odd behaviours I got fed up with). Eventually finally moved up to Haswell seeing as there was a big enough jump from the old i7 950 to be well worth it.
Each and every time I updated something I regretted having to put it into the 'little big' rig, was such a pain having to pretty much tear down the whole thing and rebuild it each time for just simple things.
Upgrading to Haswell and shoving in a new motherboard in was the last straw, too much pain and effort, that's when I decided I was going to move the guts out and into a more spacious case. Getting the R9 295X2 provided me the impetuous to get the ball rolling.
The case I decided on was the Corsair 350D. mATX and decent amount of room inside for water cooling.
If I'd waited I'd probably get the
Phanteks Entoo Mini XL
instead.
Come to think of it, the only bit of original kit from the 'little big' rig that's made it into this new one is the 256GB OCZ SSD where all my games sit. Everything else has been upgraded/replaced lol
New rig contents:
- i7 4770K @ 4.4GHz (not a very good overclocker) (might upgrade it to 4790K if they're decent at OCs)
- 16GB ram (G.Skill Trident X F3-2400C10D-16GTX)
- ASUS Maximus VI Gene motherboard
- Radeon R9 295X2
- Sound Blaster Z sound card
- Intel 128GB SSD (for OS & programs)
- old OCZ 256GB SSD (for games)
- 2x WD 4TB reds in mirror for mass storage
- Corsair AX860 psu
- Old slim blu ray burner will be put into an external USB3 enclosure for when I need it
Cooling:
- 3x Corsair Air Series SP120 Performance Edition fans
- 3x BitFenix Spectre Pro Black 140mm fans
- EK Supremacy CPU block
- Koolance 295X2 full cover block
- Koolance CU420V 120mm rad (got as it is the most compact I could find height wise. More on this later)
- Alphacool NexXxoS ST30 280mm rad
- Alphacool NexXxoS UT60 120mm rad
- Koolance QD3 Quick Disconnects (much easier than my old VL3N's)
- Koolance CTR-SPD1224M Pump Controller
- Swiftech MCP350 12v pump (got this over the 355 as it's quieter)
- Monsoon Series Two dual bay res (compact enough to sit in front of top 280mm rad in the bay)
- Lots of Bitspower fittings
PICS!
All pics
HERE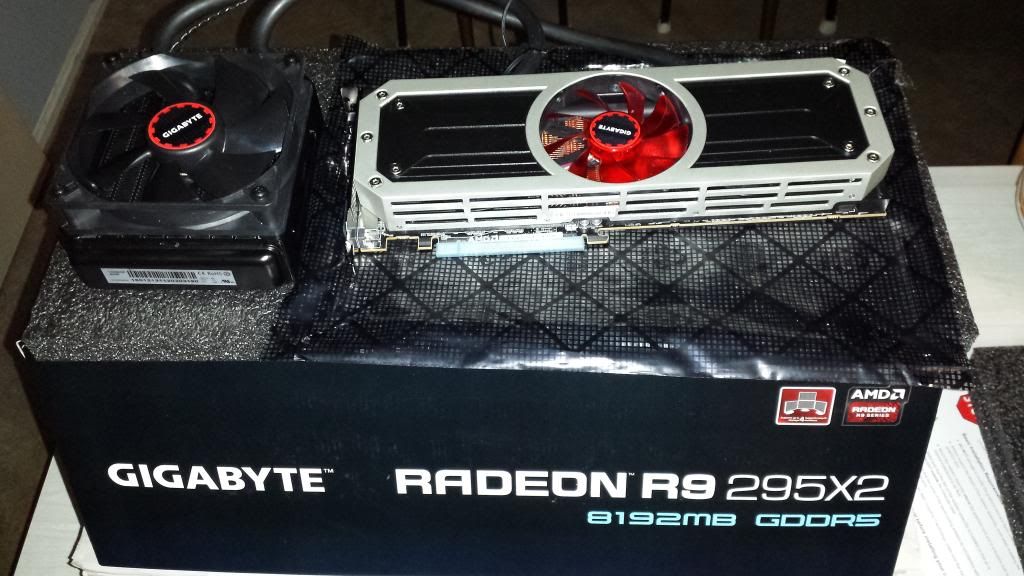 Water block fitted
Some cabling done and before doing tubing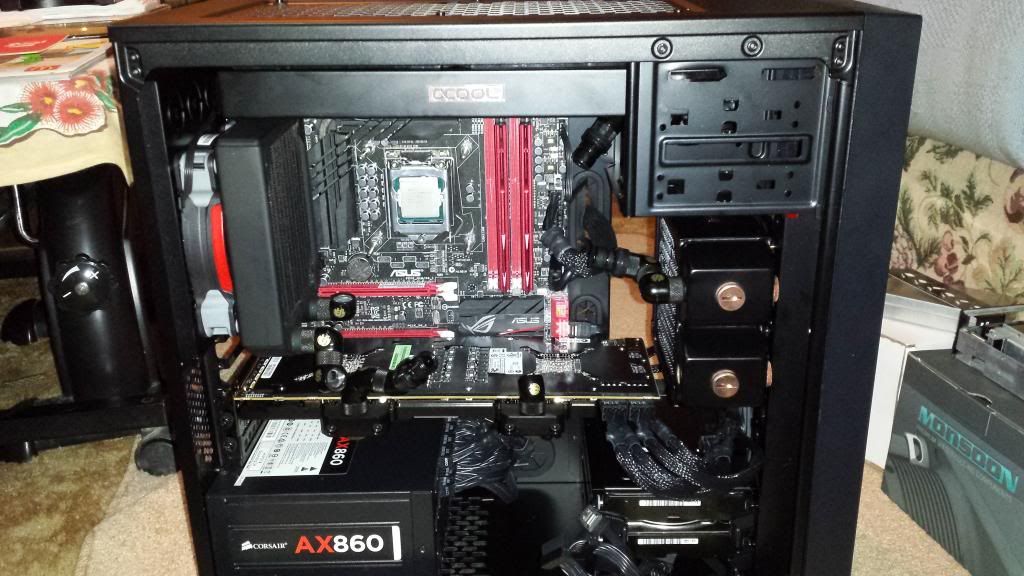 Tubing cut and terminated. DDC pump installed into bay res.
140mm + 1200m front fans and where the dual bay res/pump will go. Note how far the 280mm rad juts into bay.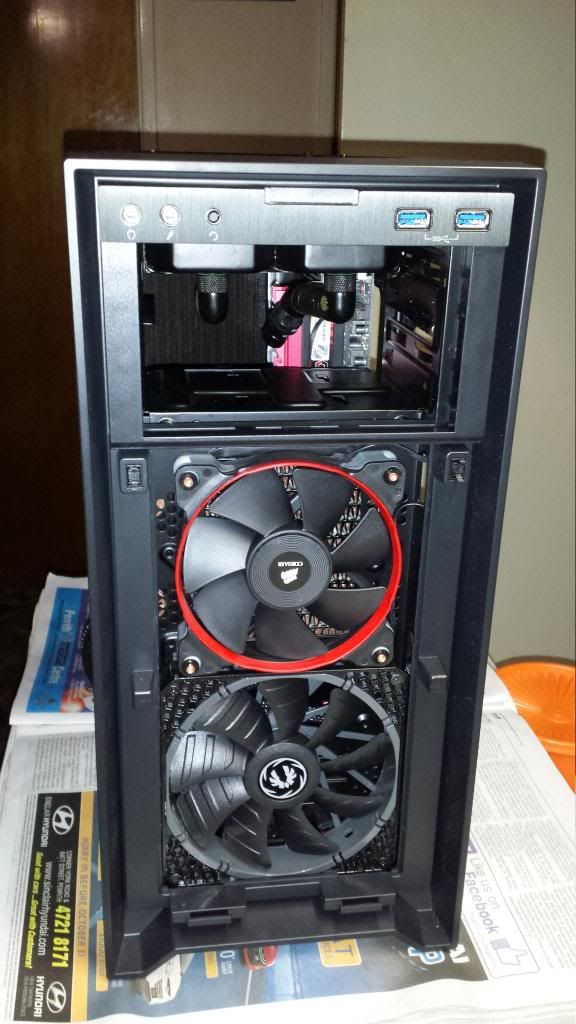 Fully assembled!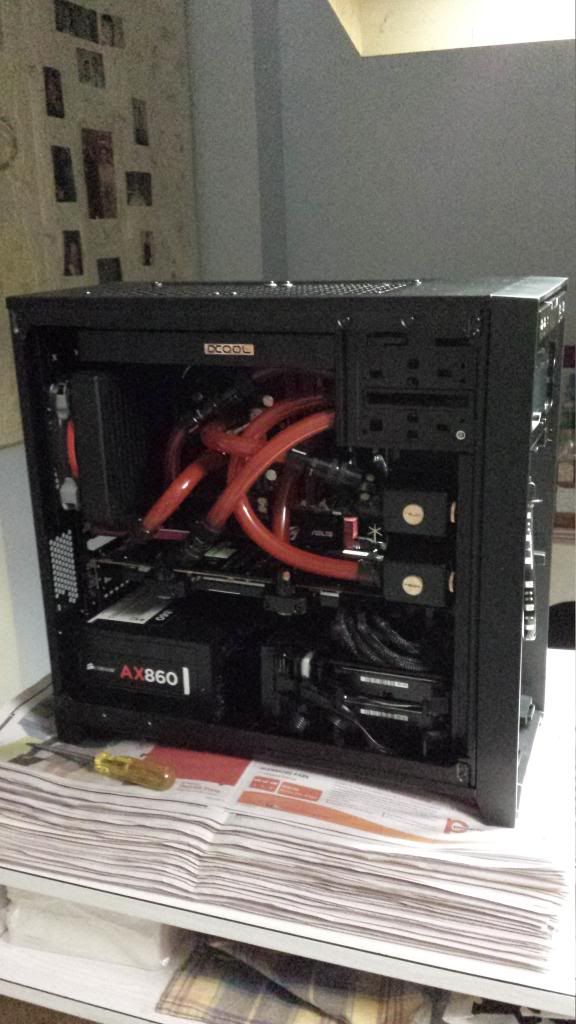 Rear rad despite being not very tall still juts out enough to hamper the 1st slot. Cardboard inserted between the two just to make sure no shorting happens
Rear IO panel, note the sound card slants due to rad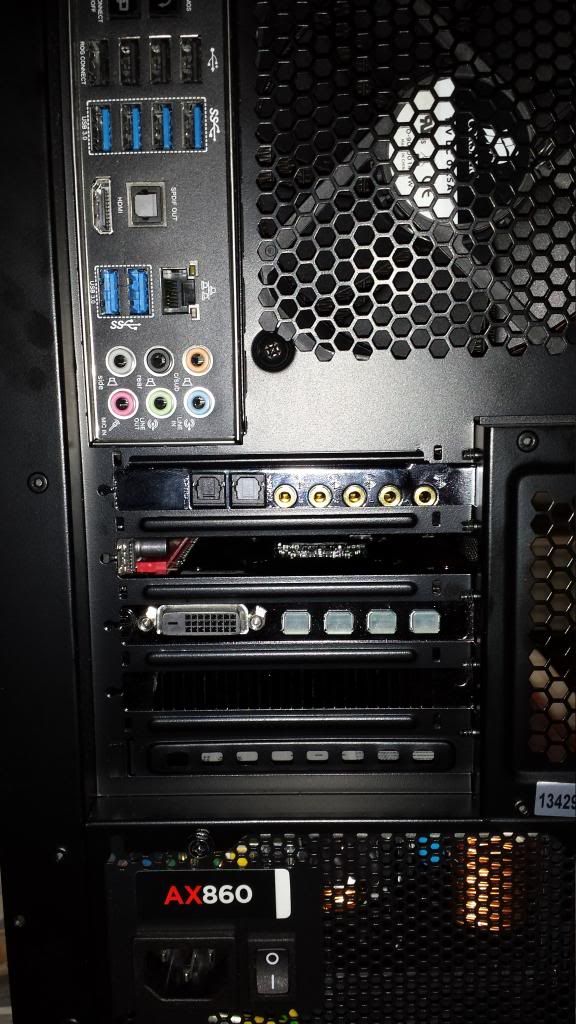 Multitude of sins cabling hidden in the rear
Looking into the rear of the pump/res bay area