Hi all, it's been a while.
Well for those of you that don't know what pepakura is....google the mother. It's basically a free little program that allows you to download 3D models from the webz and it splodes them out so that you can print them out on some cardstock, cut them out and build them like the original model. It's time consuming, does my head in but I love it. I've joined another forum whereby they discuss pepakura and how to strengthen it to make usable items. I decided to devote the next however much of my life and build a full scale Master Chief costume, just because I can. If you're at all interested just type in pepakura and halo into google and I"m sure you'll find the forum I mean as well as links to all the relevant models etc. Some of the stuff that some of the members have made is nothing short of jaw dropping. There's folks on there now building Arbiter suits, Halo weapons etc. I'm not exactly what you would consider into cosplay but this project just appealed to me on so many levels. I love the idea of scratch building things.
To explain this in a very much abridged version:
Print out the pepakura item on cardstock
Cut the pieces out
Score and fold the pieces
Glue the pieces together using hot glue or a similar medium
Cover the piece in fibreglass resin
Fibreglass the inside of the piece
Sand the piece on the inside
Apply auto body filler ot the outside and carve/sand details in
Paint
Add electronics/lights etc.
Fix mounting points and buckles
Wear.....and be a massive geek :)
...and that list is for every single piece. I'm working on the Master Chief helmet right now. It has 20 pages of bits to cut out and each page is taking me roughly 30 minutes to cut out. Each page will them take about 20 minutes to score and fold. The actual helmet will take about 3-4 hours I'm guessing to glue.
Here's a couple of pictures of the pepakura pieces for the left arm and the Halo assault rifle I'm building.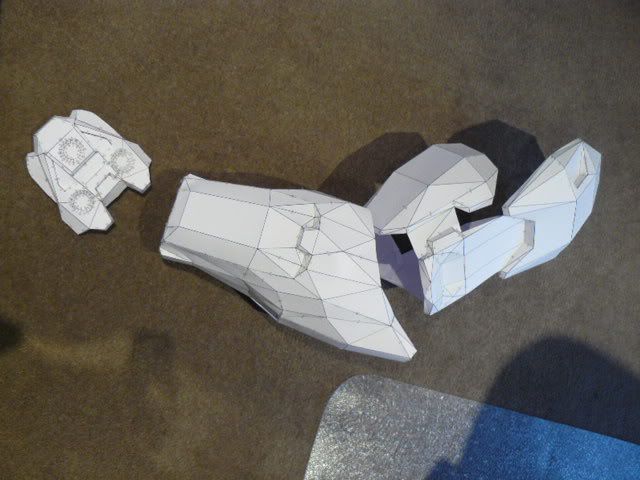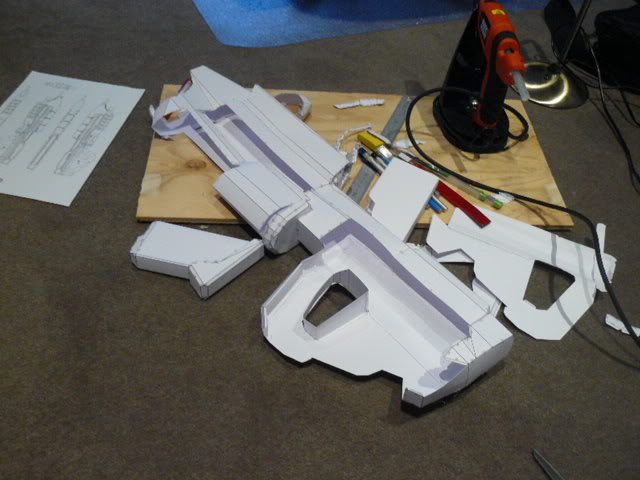 Sorry this might seem like a lame thread and a slide night at nanna's but I wanted to explain what I've been up to.
I fibreglassed some more of the bicep piece today and the assault rifle is nearly completed. I just need to put some dowel and a barrel in it and resin it up. I'll post a pic of the helmet when it's done. I've also built an Iron Man helmet which I'm not happy with.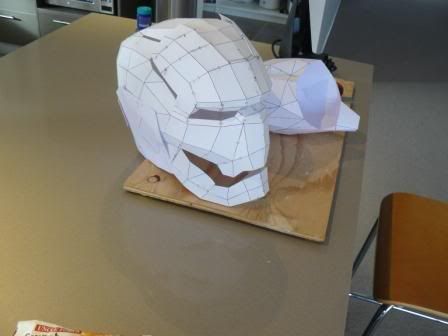 I'm going to rebuild it before I resin and fibreglass it.